I obviously hate it when my appliances start to show some signs of malfunctions, especially when my whirlpool dryer is not spinning!
Are you also experiencing this exact issue? If yes, be rest assured that you will be able to fix the problem at the end of this article.
Generally, the reasons why your whirlpool dryer stopped spinning is because of a worn out drum bearing, power supply failure, blocked drum, broken drive belt and idler pulley, malfunctioning drum rollers, unlatched door and faulty drive belt.
Are you kind of familiar with the above causes? Regardless of that we'll be taking a look at how you can fix and approach these problems in the article ahead.
Why Is My Dryer Not Spinning?
There are basically several reasons why your whirlpool dryer will not spin and I have highlighted a few above. Here are the causes of these problems and quick fixes to help you solve them as soon as possible.
| | |
| --- | --- |
| Causes | Quick Fixes |
| The dryer door isn't properly latched | Ensure the door is closed before starting a cycle or operating the appliance. |
| Incorrect settings and features activated | Carefully inspect the settings on the control board to check if the control lock feature or other similar settings isn't turned on. |
| Worn out tub bearing | If you noticed that the tub bearing which supports the rotation of the drum is worn out or damaged, a replacement is advised. |
| Broken drive belt | You need to check whether or not the drive belt is broken. If you discover that it's loose, then you need to replace it. |
| Malfunctioning idler pulley | An idler pulley that's not working perfectly can't obviously be repaired. It's better to replace the whole component. |
| Faulty Start Switch | Make sure to check if this switch is working perfectly. The dryer won't spin or begin a cycle if this switch is damaged. |
Next, let's dive into the main deal and teach you how to troubleshoot and inspect these one after the other.
1. Power Supply Problems
One of the most common problems that usually causes a whirlpool dryer not to spin is issues with power supply.
Most users tend to underestimate the importance of proper inspection and maintenance. 
The 3 things below are what could be wrong with your dryer power cord which is preventing the appliance from spinning.
Dryer not installed properly – With respect to the power cord, It's likely that your dryer wasn't correctly installed by the technician. According to the manufacturer, it's expected that your dryer is connected to a three or four wire power cord. Without this, you'll begin to experience issues with your dryer as it refuses to spin correctly in the long run.
Unplugged Dryer  – If your dryer isn't plugged in to the wall outlet, you can't expect it to work let alone start spinning. Unless you've properly checked if the appliance is correctly plugged in until it can start to spin.
Circuit breaker – It's important that the circuit breaker in your home is switched on in order for power to be supplied to your dryer.
What To Do?
Power supply is a very vital procedure to carry out. First and foremost, your dryer won't spin unless power is connected to it.
This is why you need to always endeavor to check if the wires are properly plugged into the wall outlet.
Also ensure that the circuit breaker is switched on. You also need to verify that your whirlpool dryer is properly coupled with all the necessary installations.
If not, try contacting an electrician to help you check it out.
Related: Samsung Dryer Won't Turn Off (Top Fixes In 2023)
2. Wrong Settings And Control Issues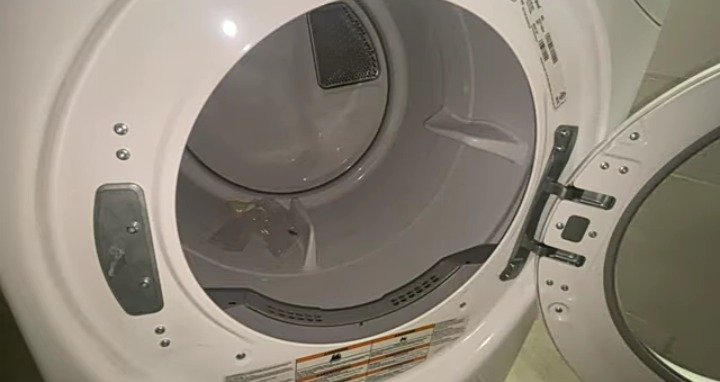 When you've accidentally tampered with the dryer or some controls are no longer responding, it could be an underlying reason for why your whirlpool dryer won't spin.
Here are some things that are associated with the incorrect settings and control issues on the appliance.
Activated Control Lock – The control lock feature basically prevents you from having access to the dryer when it's currently working. If it's turned on, your dryer won't start or spin.
Unresponsive Dryer Door Latch –  If the dryer door isn't completely closing or getting latched properly. This will prevent your dryer from functioning because there's an in-built mechanism which says your dryer is not permitted to spin unless the door is completely locked.
What To Do?
In situations like this, you should know that your door is preventing the dryer from spinning. Ensure that the door is properly closed and no object is obstructing the mechanism before starting any cycle. Also check if it is damaged or before carrying out further fixes.
Now, in order to deactivate the control lock feature on your dryer. Just look for the "Control Lock" key on the board, then press and hold for 3 seconds.
That's how to exit the dryer lock mode.
3. Dryer Drum Related Issues
The drum is also a main part of the problem that might be stopping your dryer from spinning.
Below are the things that could be wrong with the drum as a result not letting your dryer to spin.
Blocked or obstructed drum – Actually, the drum is responsible for the rotation and spinning of the dryer. If there's a blockage or obstruction around its location, this might hinder and prevent it from spinning. Some of the things that might be obstructing include zips, coins, and many more.
Worn out drum rollers – Drum rollers often get worn out over time especially when they're used frequently without being lubricated. They won't be able to effectively take part in the rotation of the drum when it's worn out, which is why your dryer fails to spin.
Worn out drum bearings – If you hear a loud squeaking noise while the dryer is working, you should be altered so that drum bearings are damaged. They also support the rotation of the drum which leads to the appliance spinning. 
What To Do?
Ensure that the drum isn't blocked by any foreign objects and you can do this by manually turning the interior. 
In order to know whether the drum rollers are worn out or not, you are required to remove the dryer's front panel and inspect the rollers visually. If they seem damaged, then you need to replace them.
It's also a good idea to check the drum bearings, especially if you are noticing some strange noises.
It requires a little bit of work to get to the drum bearings, if found damaged; you need to replace it.
4. Faulty Components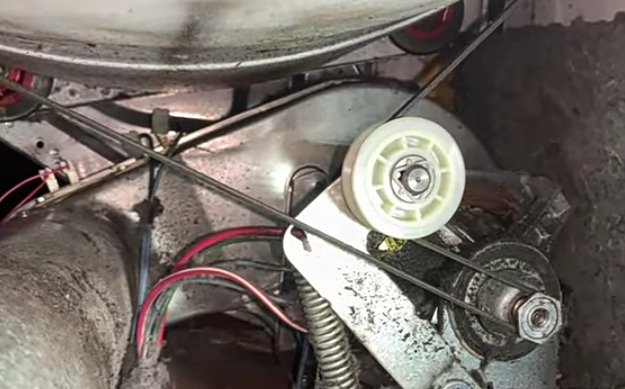 A dryer failing to spin may be as a result of some faulty components which you might need to pay attention to.
The following are the three components that could be affected.
Broken drive belt – If the drive belt is broken or loose, it will prevent your dryer from spinning correctly. The main function of this belt that's wrapped around the drum is for additional rotation.
Faulty drive motor – Chances are that the drive motor of your dryer might also be a cause especially when you are hearing a humming sound when you turn on the appliance.
Malfunctioning idler pulley – This is another component that keeps tension on particularly the drive belt. If it gets broken or becomes faulty, it can stop your whirlpool dryer from spinning.
What to do?
In the case of faulty or malfunctioning components, it is required that you find another replacement in order to ensure the proper functioning of your dryer.
5. Electronic Control board problem
Perhaps all above fixes seem not to work even after replacing the components, then the issue might be associated with the electronic control board.
This component might be failing to authorize and send appropriate information to its destination.
Once this happens, other important functions in your dryer are also affected.
By the way, the last step you should take is to replace the control panel if the aforementioned fixes don't solve the problem. 
Whirlpool duet dryer not spinning?
If your whirlpool duet dryer is failing to spin, there are numerous reasons why this might be happening.
You need to inspect the drum bearings for damages, manually check if the drum can turn freely, check if the drive belt and idler pulley aren't broken.
However, once you have checked all of these – you should then proceed to address affected areas on your duet dryer. 
Whirlpool cabrio dryer not spinning?
Most of the causes of whirlpool cabrio dryer not won't spin includes, a tripped circuit breaker, blocked drum, faulty drive motor, unconnected power supply, an incorrectly locked door and many more.
Other areas regarding the components which you can check are the bearings, drum glides and drum rollers.
Final Thoughts
Regardless of whether you are inexperienced or not, you should be able to carry out some of these simple fixes to fix your whirlpool dryer that won't spin.
In case you are still experiencing issues, you can contact an appliance technician or let us know about your comments. Thank you!