Noticing a ton of brown flakes in your washing machine after a load of wash cycles is pretty annoying.
I've literally been using a washing machine for quite a while now, and it seems my clothes keep coming out with brown flakes and debris on them regularly. 
However, I was able to fix this problem without paying a dime and reaching out to any home appliance professional.
The reasons why black or brown flakes are showing up in your washer is because of a deposit of rust, detergent build-up, accumulated dirt in the washer, hard water, using excessive detergents and fabric softener, sludge build-up, using a top load washing machine and many more.
If you have attempted to get rid of these flakes by cleaning the washer. You might not be doing it the right way.
I will be showing you the different ways to thoroughly remove these brown flakes and get back to doing your laundry again before they pile up.
Let's get started.
What Causes Brown Flakes In Washing Machine?
Those substances in your washing machine didn't just appear all of a sudden.
You could have been doing or using some products which might have triggered the brown flakes.
Brown sludge in washing machine and on clothes may be caused due to the following reasons below.
Rust deposit.
Detergents build-up or residue.
Accumulated dirt, lint in the washing machine.
Mildew or Mould
Using excess detergent.
Use of chlorine bleach and fabric softener.
Not washing with warm water.
Hard water.
Using a top load washing machine
Sludge build-up via contact between a detergent and fabric softener.
#1. Accumulated Dirt In The Washing Machine
Dirts and lints just somehow always find their way to the components of your washer. They clog the washer and lints that have accumulated start to appear on your clothes after washing.
The hose, drum, detergent holder or some pipes might be filled with dirt and you are not likely to be aware of this unless you maintain your washer regularly.
It isn't really difficult to thoroughly clean your appliance, I'll be highlighting the cleaning agents you can use and how to use them.
But first, let's get done with the reasons why there are brown flakes in your washing machine.
#2. Using Too Much Laundry Detergents
The second most probable cause of brown flakes is the usage of excessive amounts of detergents.
Using some specific types of detergent that contains chlorine can lead to a reaction between iron and manganese, therefore leading to flakes forming inside the washing machine.
If you do use fabric softener, it is possible that there are some leftover detergents in your washer. 
Flakes form when you finally add a fabric softener to the clothes mixing with the residual laundry detergents. Use detergents that are soluble in hard water.
#3. Rust Build-up 
Sometimes a component of your washing machine might start to peel off or become rust such as the drum, tub and others.
Is your washer old and have you been using it for a long time? This might be the reason why your clothes keeps coming out with brown flakes and debris on them.
Don't worry, if you aren't planning on buying a new washing machine soon, you should consider inspecting for any rusty components and getting them serviced.
#4. Using A Top Load Washing Machine
If you are using a top load washing machine, there is a huge probability that brown flakes might appear on your clothes.
This is due to the fact that these types of washers are directly susceptible to these occurrences.
I was also using a top loader washing machine when I began to notice brown flakes on my laundry. 
How To Get Rid Of Brown Flakes In Washing Machine?
There are a few tricks which I used to eliminate the flakes on one of my old washing machines. I hope you find it useful also.
Method 1: Clean the appliance properly with tablets
You need to thoroughly clean the appliance via the "clean cycle" with some cleaning agent and tablets.
Step 1: Run the cleaning cycle with warm water, two loads of baking soda, three tablets of affresh and 3 or 4 cups of vinegar (Altogether).
Step 2: You need to carry out the clean cycle at least 8 to 10 times. It took a lot of cycles before the brown flakes were finally gone in my top load washing machine.
Step 3: Ensure that the lid is open and let it soak for a while. You can also carry out extra rinse in order to avoid or remove too much accumulation of soap.
You need to be patient as the flakes would eventually go away after numerous cycles. 
If you've tried this method and it's still not getting rid of the brown flakes, give the other alternatives a try.
Method 2: Run A Washing Machine Cleaner Through The Appliance.
Depending on what you have available in your home, you can easily run a Glisten Washer Magic or Lemi Shine through your washing machine. 
Step 1: Add about 2 tablespoons of this detergent in your machine and run regular cycles.
Step 2: Make sure you don't use too much or more than 2 tablespoons in order to avoid creating another buildup inside your washing machine.
Method 3: Use Dishwasher Tablets Or Citric Acid.
Another method that also works like charm is to use dishwasher tablets in addition to citric acid.
Step 1: Add at least 2 dishwasher tablets to warm water until it dissolves, then directly add into the washing machine.
Step 2: Close the lid and run a cycle for a long time. You can also add 2 x 75g canisters of citric acid, just ensure that you don't use any fabric softener or detergent.
This method works well but it's risky with respect to long term use.
It definitely removes brown flakes but might dry out your washing machine hoses in the long run.
Method 4: Inspect For Any Rusty Parts In Your Washer
Note that a cleaning agent might not be able to take care of this issue if a part of the washer is causing the brown flakes.
Step 1: One of the things I do is use a flashlight to check if there are any parts of the appliance inside that's rusty and leading to the brown flakes in my washer.
Step 2: Sometimes I dismantle the appliance for proper check up. Note that you don't need to take apart your washing machine before you can detect any component that's rusty. 
Any part that is rust can either be painted, serviced or replaced.
Painting the rusty area is a very quick and easy procedure rather than servicing since you are not a fixing professional.
Method 5: Check For Accumulated Dirts In The Components.
You shouldn't be surprised if you discover accumulated dirt in some parts of the machine.
Thoroughly inspect the washing machine, check the pipes, hoses, detergent dispenser and others for lints.
Remove any dirt you find and attach the parts back to avoid any errors. Clean every piece of internal tubing and add a particle filter before the water intake inlet. 
How To Avoid Brown Flakes In Your Washing Machine?
It's not enough to just get rid of brown flakes in your washing machine, you should be able to prevent the flakes from coming back.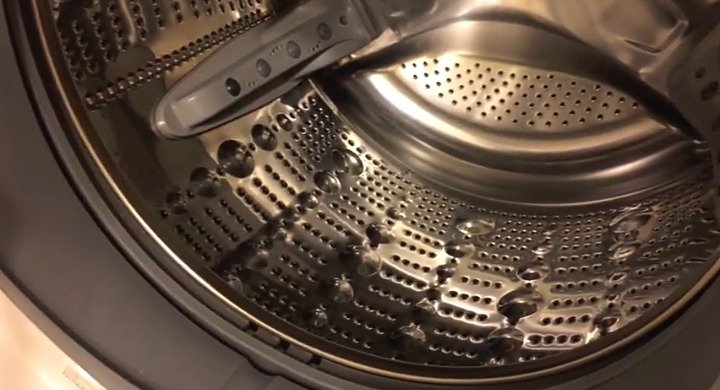 Now, how do you do this exactly? Below are the list of things to do so as to avoid the recurrence of flakes.
Use a minimal amount of fabric softener. I recommend not using it at all.
Reduce the quantity of detergents you use. 
Try using a different kind of detergent without chlorine or active oxygen.
Always maintain the appliance and clean regularly.
Replace or service any rusty components of the washing machine.
Lg Washing Machine Brown Flakes On Clothes?
Specifically on your lg washer, if you notice some little brown gunk on clothes from washing machine – there are a few ways to fix this.
You can either decide to clean the appliance properly with tablets or run a cleaner cycle. This would help you get rid of the flecks.
Conclusion
We've literally compiled a few methods to help remove brown flakes in your washing machine. Hopefully, any of the methods you prefer using works perfectly.
Here is a summary of the ways to get rid of brown flecks filled in your machine.
Inspect for any rusty parts in your washer.
Use dishwasher tablets or citric acid.
Clean the appliance properly with baking soda, affresh and vinegar.
Run empty cycles with machine cleaners.
There are numerous other guides on taking care and troubleshooting your home appliances on our page. You can check it out!!!