Well, whenever my washer begins to act up in such a way that some settings start to malfunction or restrain from working perfectly.
I usually carry out some procedures to reset the maytag bravos washer and it somehow really worked out.
Perhaps you are finding it difficult to work with your maytag bravos washer or you get some kind of codes and errors that's really giving you a hard time lately. No worries!! We are definitely here to assist you. 
Be rest assured that I will be taking you through all what you need to know in order to reset your maytag bravos washer. 
How Do You Reset Maytag Bravos Washer?
All you need to do is unplug the washer from the socket outlet for at least 5 to 10 minutes, before you plug it back in to test if the appliance has reset or has been recalibrated.
Note that this is the first procedure I usually carry out while trying to reset my washers.
It's actually the easiest method you could try out if you don't want to get things too complicated with the appliance.
Here are some few other methods you can try, but it requires you to be accurate and careful.
Although it's very simple, you just need to follow the step-by-step guidelines which I will be highlighting below. 
Rotating The Cycle Selector Knob At The Center Of The Washer In Specific Order
You know that on a maytag bravos washer, there are a lot of buttons to press which includes deep water wash, soak, normal, power, start and many more. 
But you see that a little big button or the cycle selector knob, which is usually attached to the dryer at the center. 
With this big button or cycle selection knob, it will be the focus of the procedures to take in order to reset the washer. Follow the guidelines below.
First and foremost, ensure that the washer is empty. You shouldn't have clothes inside ready for washing. That's a no no!! (It must also be in a normal standard mode or position)
Hold the cycle selection knob and turn it around in a counterclockwise rotation once (one rotation) and make sure it gets to its previous position.
Now, rotate the big button at the center (still the cycle selection knob) in a clockwise rotation so that it clicks three settings and stop it at the 3 o'clock position. 
Turn the main handle in a counterclockwise rotation once and bring it back to the 3 o'clock position. 
You will notice all the light will begin to blink. This is just a sign that you are on the right path. If you do not see any LED lights blinking below the main handle, then you have to try the previous steps again.
Now, after you notice all the lights starting to blink. Continue to rotate the cycle selection knob in a clockwise rotation until you see only "rinse" turned on.
After the "rinse" LED light is illuminated, press the"start" button and your maytag bravos washer will begin to reset and re-calibrate.
What you will notice is that the washer LED lights start changing from keypads to keypads, also make some sound a little bit until it completes all necessary cycles.
This procedure should also work if you are trying to reset a maytag maxima washer. 
Lifting Up The Top Lid Of The  Maytag Bravos Washer
The aforementioned procedure is a sure method which really works for all maytag bravos washers. Regardless of this, there is another quick reset fix you can try out. 
But, just make sure that the initial guideline above is the first procedure you carry out before you attempt others. 
First and foremost, unplug the appliance for 60 seconds. This is a very important step to take before tampering with or trying to fix your washer. 
Now, after plugging your washer back in. You have a maximum period of 30 seconds to lift and close the top lid of your washer 6 times. 
Note that you have to make sure you do this within that time frame and make sure you are correctly closing the top lid. This is important in order to ensure that you are doing this the right way.
Why Can't I Reset Maytag Bravos Washer?
There are only a few reasons why you might not be able to reset your washer despite carrying out all the necessary procedures.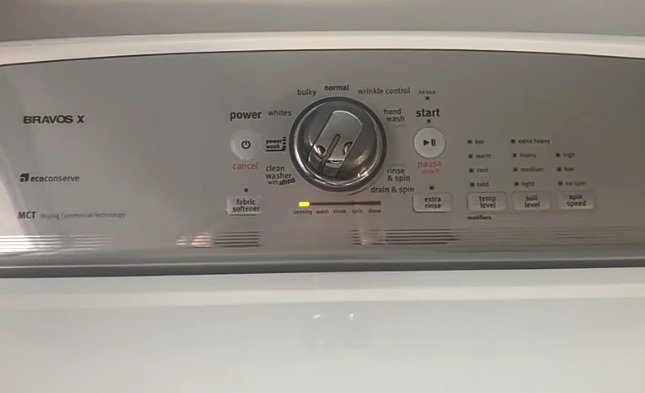 One of these includes not rotating the cycle selector knob as it expected to be rotated. 
As I have highlighted in the other sections of this guideline above, you need to turn around this button in a specific order so as to ensure that you are correctly resetting the washer.
Recommended reading: ge washer stuck on sensing
Frequently Asked Questions
How To Reset A Maytag Bravos Mct Washer?
Just like I illustrated above, you have to follow the same procedure similar to the one highlighted above which is turning the cycle selector button in a specific order.
Make sure that the washer is empty and definitely in standard mode, rotate the knob which is the button at the center in a counterclockwise rotation once and get it back to its 12 o'clock (the previous position).
Now turn the cycle selector knob clockwise for just three settings so that it is positioned at exactly 3 o'clock.
Then, rotate the knob clockwise one time and return it counterclockwise once by bringing it back positioned at 3 o'clock.
All lights will start to blink at this point, then you need to continue turning it clockwise till only the rinse LED light is illuminated. 
Press the Start button and the Mmytag bravos mct washer will reset.
How To Reset A Maytag Bravos XL Washer?
This also should not really be difficult if you have this exact type of maytag bravos washer. All you need to do is just follow the above procedures and you are good to go.
Final Thoughts…
I have broadly covered all what you need to know in terms of resetting and re-calibrating your maytag bravos washer.
If you carefully go through the step-by-step process, you would definitely be fine without a serviceman. Honestly…
Want to learn more guides and tricks regarding troubleshooting your dryer, there are several other pages you can decide to explore. Feel at home!!